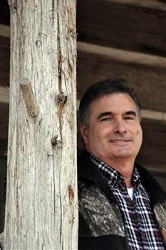 Welcome to Foster Taxidermy Supply.
We would like to take this opportunity to give you a little history on Danny Foster, owner and founder of Foster Taxidermy Supply. At the early age of fourteen, Danny began taxidermy as a hobby. He continued taxidermy as a part time job throughout high school and college, where he earned a degree in art education. In 1973, Danny opened Foster Taxidermy Studio. Foster Taxidermy Studio operated until 1997.
Danny has always shared his knowledge of taxidermy through numerous seminars and by writing articles for the taxidermist. He has been a creator of many innovations in the taxidermy industry.
In the 1970's, Danny was featured in a book published by Archie Phillips on Deer Mounting. This chapter introduced the short incision on mounting gameheads by Danny Foster.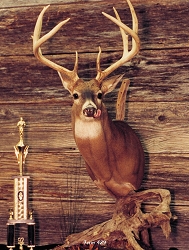 It was in 1979, that Danny began to sculpt his ownwhitetail deer forms, due to the inaccuracy of the whitetail deer forms that were available at that time.
Having been an artist, sculptor, taxidermist, avid hunter, and having whitetail deer for reference purposes, he was able to create what we believe are the best forms for the taxidermists today. As a result, Foster Taxidermy Supply was founded.
Whitetail Mount Using
Taxidermy Form 442

Whitetail Mount Using
Taxidermy Form 537
Whitetail Mount Using
Taxidermy Form 442

Whitetail Mount Using
Taxidermy Form 537
Danny's forms have won many sculpting awards at the NTA Conventions. Danny Foster has been the first to create so many new products in the taxidermy supply industry. Some of these are the Antler Mount Base, Polyurethane Panels, The Ultimate Antler Mount Cover, Quick Mount Antelope Forms, The Primate Collection, and of course, the ever so popular Grooming Buck Forms. If only you knew the story of how he got that deer to groom himself like that!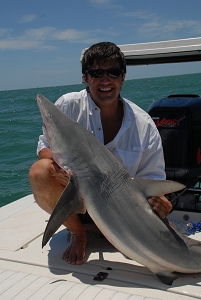 We want our customers to know that Foster Taxidermy Supply is a family owned business. Danny's son, Will Foster, is a very valuable asset to this business. He is always willing to assist the customers in any way possible.
Foster Taxidermy Supply specializes in Whitetail Deer Forms. Please give them a try, once you do, you and your customers will be sold. We invite you to try our many products as well as our new products.
Foster Taxidermy Supply will continue to provide you with the best products, the best service and of course the best prices in the industry.
Above all else, our customers come first. We always welcome your comments and concerns. We look forward to serving you in the future just as we have for over the past 30 years.
~Danny and Will Foster


1. To place an order over the phone, call TOLL FREE 1-800-848-5602
2. Print out the ORDER FORM and fill in your items numbers desired then go to the UPS chart and include the shipping charges, then email the order form to us and call with your credit card (You should not email your credit card information) or you can print and fax this form with your CC info. to us at 1-334-281-7676.

If sending credit card information, we will charge the exact shipping costs to your order.
3. Print out the ORDER FORM and fill in your items and then mail the form with your payment to:

Foster Taxidermy Supply
5124 Troy Highway L
Montgomery, Alabama 36116

Please be sure to accurately select the shipping costs if sending us a check for payment, or call us for shipping costs.
How To Measure for Your Taxidermy Form:
A = Corner of eye to tip of nose
How To Measure for Your Taxidermy Form
B= Circumference of neck 1 inch below head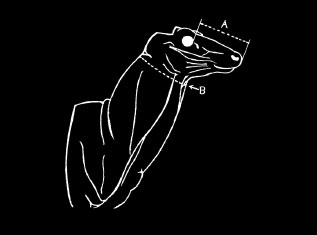 CLICK HERE FOR
2014 FOSTER TAXIDERMY SUPPLY CATALOG*
Your download will open in another window, this way you can continue to browse the rest of the website while waiting for the catalog to open.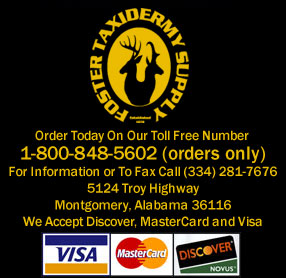 Order Toll Free 24 Hours Orders Only 1-800-848-5602
For Information Only 1-334-281-7676 • Fax 1-334-281-7676
Foster Taxidermy Supply
Shipping & Mailing:
5124 Troy Highway • Montgomery, Alabama 36116
• We accept MasterCard, Visa & Discover.
• Discounts 5% on $200.00 or more.
• Telephone orders accepted 24 hours a day/ 7 days a week. • Telephone orders will be shipped C.O.D., or credit card.
• Telephone orders are shipped the same day.
• If you have merchandise to return, please do so within 30 days.
• We ship by UPS.
• Prices are subject to change without notice.
• There will be a $30.00 charge for returned checks
Please include enough postage with mail orders
Excess will be refunded with orders.
See UPS chart