400 Series Whitetail Forms at Foster Taxidermy Supply
---
Click Here for EASY ORDER CHART on These Particular Forms
Click here for How To Measure for your Taxidermy Forms
---
There are 3 ways to order from Foster Taxidermy Supply:
1. To place an order over the phone, call TOLL FREE 1-800-848-5602
2. Print out the ORDER FORM and fill in your items numbers desired then go to the UPS chart and include the shipping charges, then email the order form to us and call with your credit card (You should not email your credit card information) or you can print and fax this form with your CC info. to us at 1-334-281-7676.

If sending credit card information, we will charge the exact shipping costs to your order.
3. Print out the ORDER FORM and fill in your items and then mail the form with your payment to:

Foster Taxidermy Supply
5124 Troy Highway L
Montgomery, Alabama 36116

Please be sure to accurately select the shipping costs if sending us a check for payment, or call us for shipping costs.

How To Measure for Your Taxidermy Form
A = Corner of eye to tip of nose
B= Circumference of neck 1 inch below head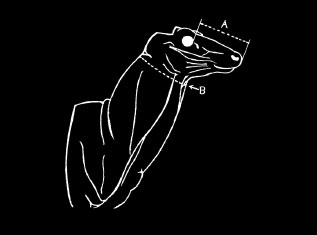 CLICK HERE FOR
2022 FOSTER TAXIDERMY SUPPLY CATALOG*
Your download will open in another window, this way you can continue to browse the rest of the website while waiting for the catalog to open.
---
Click On The Categories Below To Navigate Through The Website.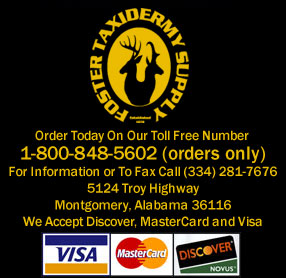 Order Toll Free 24 Hours Orders Only 1-800-848-5602
For Information Only 1-334-281-7676 • Fax 1-334-281-7676
Foster Taxidermy Supply
Shipping & Mailing:
5124 Troy Highway • Montgomery, Alabama 36116
• We accept MasterCard, Visa & Discover.
• Discounts 5% on $200.00 or more.
• Telephone orders accepted 24 hours a day/ 7 days a week. • Telephone orders will be shipped C.O.D., or credit card.
• Telephone orders are shipped the same day.
• If you have merchandise to return, please do so within 30 days.
• We ship by UPS.
• Prices are subject to change without notice.
• There will be a $30.00 charge for returned checks
Please include enough postage with mail orders
Excess will be refunded with orders.
See UPS chart
COPYRIGHT © 2010-INFINITY - FOSTER TAXIDERMY SUPPLY
ALL FORMS AND PANELS ARE COPYRIGHTED.
ANY CASTING OR DUPLICATION OF THESE FORMS OR PARTS IS STRICTLY PROHIBITED BY LAW.