How To Measure for Your Taxidermy Form
A = Corner of eye to tip of nose
B= Circumference of neck 1 inch below head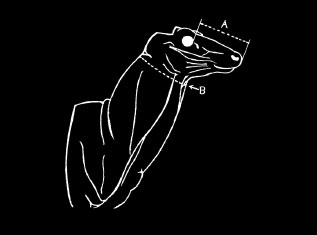 CLICK HERE FOR
2010 FOSTER TAXIDERMY SUPPLY CATALOG*
*Please note that the catalog is in pdf format for easy viewing.
If you want to save the download, then when the file is finished downloading, go to FILE at the upper left of the PDF viewer, then "Save As" to a folder of your choice, or simply choose the "desktop" for easy access.
This file is very LARGE 112MB and may take several minutes to download.
Your download will open in another window, this way you can continue to browse the rest of the website while waiting for the catalog to open.